I know I should be ashamed of myself, but after a long time I finally have been able to make that sneak preview movie of the Bubbles project
And if you watch (and listen) closely you can tell I indeed was still pretty tired from the last couple of weeks. But a promise is a promise and thus I decided to make the sneak preview yesterday.
And where I thought I had the code flawless, I ended up with a couple of bugs still there in the game. At level 4 (starting around 13:30) I'm mentioning 2 bugs and a 3rd bug I saw when editing the movie (at around 16:20) you see a bubble burst into white parts instead it's own.Lets round down those bugs:
The flashing bubbles DO NOT flast more when the game is paused. I just checked this in the Unity editor and after 10 minutes the bubbles were still flashing at the same level. I guess my tired eyes were playing tricks on me there
Dragging the bomb to the lowered Bubbles indeed was a bug. I just can't figure out why I didn't take that into account at all in the code. Added it and the bombs are working perfectly now!
That Bubble bursting into white instead it's color has been fixed. I'm not sure HOW that could happen, but I know WHERE it was happening and it was extremely easy to fix. With that, if you'd still have chains, keys or locks in the playing field the same thing would happen as well (that's why the fix was so easy to find and apply
)
While testing the above bugs and fixes I also stumbled on the following bug: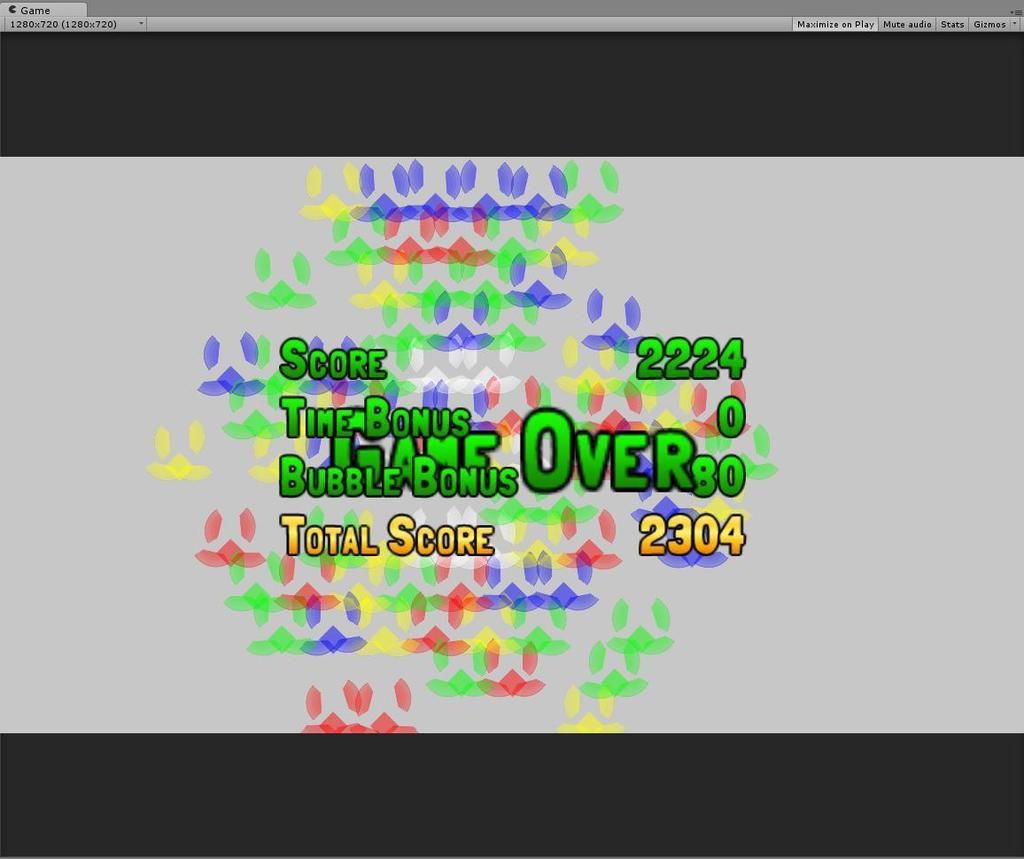 Yes, that's right, it's a GAME OVER situation combined with a SUCCESSFUL COMPLETED LEVEL. I did make correct checks for the 2 of them in the code, but the latter one should only be checked if it's NOT a GAME OVER situation
Needless to say, this one was the easiest one to fix...
For now I'll be back to the drawingboard, and that's quite literally! As I mentioned in the game, three's still a lot of conceptual art in it (the whole menu system, keys, padlocks and bombs) and I need to make the art for those as well. Being still a pretty n00b graphic artist it might take some time though to get the art right and the way I want them to look...